Masoneilan Pressure Regulators 525/526 Steam, Gas or Liquid Service /Bộ điều chỉnh áp suất hơi, khí hoặc lỏng Models 525 and 526 Masoneilan
The Masoneilan Models 525 and 526 double seated regulators from GE are designed to handle a wide variety of process pressure control applications. Construction features have been carefully selected to provide optimum performance. Those include:
Models 525 and 526 Regulators are designed for use with the 10900 Series Actuators for reducing, back pressure and differential pressure applications. Refer to Specifcation Data CY10900 for actuator selection.The following pages provide the necessary technical information required to specify the Models 525 and 526 regulators.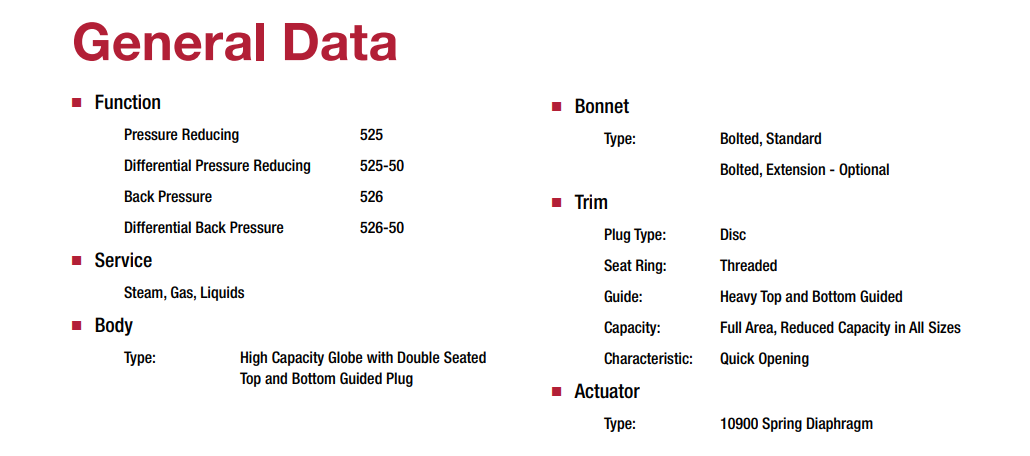 LT Vietnam là đại diện phân phối độc quyền các sản phẩm van Masoneilan tại Việt Nam. Chúng tôi cung cấp tất cả các phụ tùng và phụ kiện đi kèm van, ngoài ra đội ngũ kỹ sư của chúng tôi sẽ trực tiếp tư vấn, thiết kế, bảo dưỡng, sửa chữa và lựa chọn van phù hợp với nhu cầu và điều kiện vận hành của khách hàng.
Để nhận thông tin và tài liệu chi tiết của các dòng van điều khiển, phụ kiện Masoneilan vui lòng liên hệ :
Email: Sales@ltvietnam.com.vn
Điện thoại: (84-24) 6650 6373
Valve Engineer :
Mr. Tuấn 0981282386. Email : tuannt@ltvietnam.com.vn
#masoneilan #masoneilan_viet nam, #Masoneilan_viet_nam, Masoneilan việt nam, Đại lý masoneilan tại việt nam, Dresser_Việt_Nam, #dresser việt nam
#dresser #Dresser_Việt_Nam #Masoneilan_Việt_Nam, masoneilan-việt-nam, Đại_lý_masoneilan_Việt_Nam, đại_lý_masoneilan_việt_nam, đại lý masoneilan tại việt nam, van điều khiển masonielan việt nam, #việt_nam_masoneilan, #525, #526, masoneilan 526 regulator, #reducing_regulator, #back_pressure_regulator, 525, 526,#535, #535C, 535, 535C,masoneilan 525 pressure regulator, masoneilan 525/526 pressure regulator,masoneilan 526 pressure regulator,#526 pressure regulator,#525 pressure regulator...
Masoneilan - 525 and 526 Regulator. Masoneilan 525/526 Back Pressure Regulator
Our Customers