Consolidateds EBV Electromatic* Ball Valve* 3500 Series/ Van điện-van an toàn Consolidated 3500 Series
The BHGE Electromatic Ball Valve is an electrically controlled power actuated pressure relief device. It may be manually operated by direct command on the controller screen/remote panel, or automatically operated at specifed opening and closing pressure. The application provides the plant operator with a means of instantaneously opening and closing a relief valve at a remote location.
When the pressure controller is set to open the Electromatic Ball Valve at a pressure slightly below the lowest set spring loaded safety valves, it will prevent the safety valves from opening except during major overpressure excursions.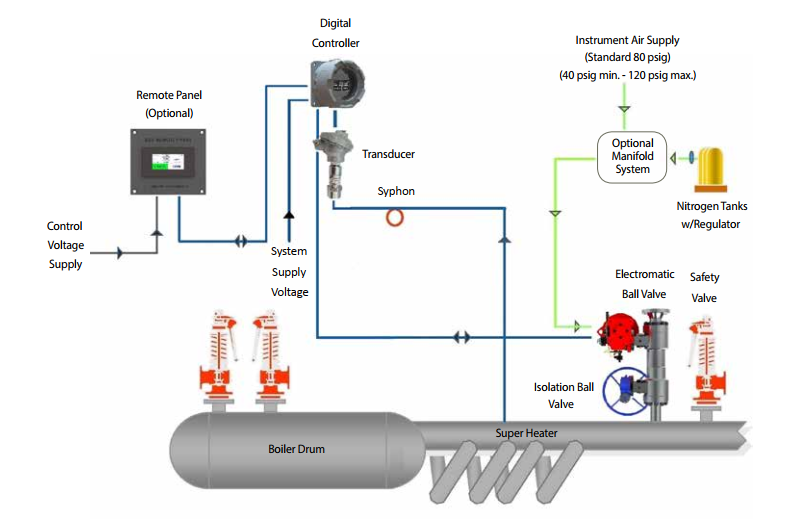 Typical Electromatic Ball Valve System
LT Vietnam là đại diện phân phối độc quyền các sản phẩm van Consolidated tại Việt Nam. Chúng tôi cung cấp tất cả các phụ tùng và phụ kiện đi kèm van, ngoài ra đội ngũ kỹ sư của chúng tôi sẽ trực tiếp tư vấn, thiết kế, bảo dưỡng, sửa chữa và lựa chọn van phù hợp với nhu cầu và điều kiện vận hành của khách hàng.
Để nhận thông tin và tài liệu chi tiết của các dòng van an toàn, phụ kiện Consolidated xin vui lòng liên hệ :
Email: Sales@ltvietnam.com.vn
Điện thoại: (84-24) 6650 6373
Valve Engineer :
Mr. Tuấn 0981282386. Email : tuannt@ltvietnam.com.vn
Đại lý Consolidated Việt nam, Đại lý van Consolidated tại việt nam, Consolidated Việt Nam, #Dresser_viet_nam, #Dresser_việt_nam, #dresser tại Việt nam, # Đại diện van consolidated tại việt nam, van an toàn Consolidated, van_an_toàn_consolidated, van_consolidate, van consolidate, van_consolidated, đại diện consolidated tại việt nam...
Our Customers