Pilot-Operated Safety Relief Valve 2900 MPV Series Consolidated*
The 2900 series pilot-operated safety relief valve is an innovative Consolidated product offering from GE, a world leader in pressure relief valve technology. The 2900 series valve is a blend of GE's Consolidated type 1900 safety relief valve and GE's Consolidated type 3900 pilotoperated safety relief valve. These GE products have a proven track record of performance, versatility and ease of maintenance.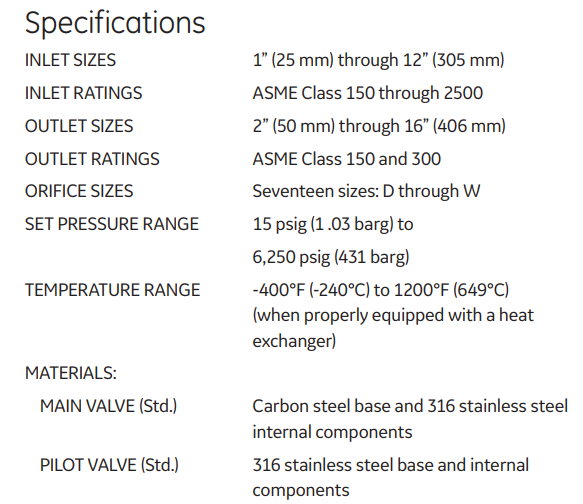 LT Vietnam là đại diện phân phối độc quyền các sản phẩm van Consolidated tại Việt Nam. Chúng tôi cung cấp tất cả các phụ tùng và phụ kiện đi kèm van, ngoài ra đội ngũ kỹ sư của chúng tôi sẽ trực tiếp tư vấn, thiết kế, bảo dưỡng, sửa chữa và lựa chọn van phù hợp với nhu cầu và điều kiện vận hành của khách hàng.
Để nhận thông tin và tài liệu chi tiết của các dòng van an toàn , phụ kiện Consolidated xin vui lòng liên hệ :
Email: Sales@ltvietnam.com.vn
Điện thoại: (84-24) 6650 6373
Valve Engineer :
Mr. Tuấn 0981282386. Email : tuannt@ltvietnam.com.vn
Consolidated Việt Nam, #Dresser_viet_nam, #Dresser_việt_nam, #dresser tại Việt nam, # Đại diện van consolidated tại việt nam, van an toàn Consolidated, van_an_toàn_consolidated, van_consolidate, van consolidate, van_consolidated, đại diện consolidated tại việt nam, Dresser, dresser consolidated, Dresser_ consolidated, Việt_nam, #vietnam, #consolidated_vietnam , #nhà phân phối van an toàn consolidated,
Our Customers